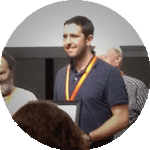 Guillermo López (ORCID 0000-0003-1005-1760) was born in Valladolid in 1983. He is telecomunications engineer and electronics engineer, both studied at the University of Valladolid with a stay in Jules Verne University in Amiens, France. His major area of activities are:
– Development of science prototipes for Exomars RLS instrument.
– Development of algoritthms for signal processing and automatic adquisition of raman spectra.
Contact:
Phone: +34 983 42 46 12
Address: Edificio INDITI   Avda. Francisco Valles, 8
Parque Tecnológico de Boecillo, CP 47151 (Valladolid) SPAIN